Free Shipping Blank Hologram Eggshell Stickers
Hologram destructible eggshell stickers, they are tamper proof with holographic effect and cannot be removed without hundreds of times and with strong water sensitive adhesive provides high bond and excellent destructibility on most substrates, including metals, power coated surfaces, and plastics, including many low energy surface materials.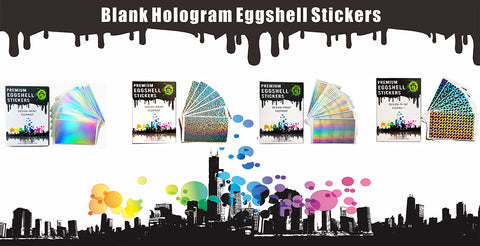 The Top Quality of Eggshell Sticker Resource From China. 
❤Size: 3.937"x2.36" (10x6CM) 
50pcs price 16USD 
100pcs price 23USD 
200pcs price 35USD 
Hologram Eggshell Sticker price is including slow delivery to USA, UK, Germany, Finland, France, Mexico, Canada, Chile, Spain, Brazil, Switzerland, Australia and the etc. Contact us for more places with valid costs please!
❤Hologram Blank Eggshell Stickers, Rainbow and bright surface, the effect of different perspective, good for graffiti and doodles. 
❤Release liners: 80g glassine liners 
❤All stickers are easy bend and peel off (backside paper is little larger than the face stickers.) 
❤Leave us your phone number please if paid by paypal, thank you! 
❤We want to keep cheap with good quality materials and printing. Any other special requests? Shoot me an email please! 
Package will be one by one (one piece will be the same as the picture shows)


❤ The price is including door to door mail delivery costs by slow way, around 10-20 days to be received once send out. If you want fast way 4-5 work days to be received, contact us for valid express costs please.
❤Custom any other size or quantity for blank hologram eggshell sticker is also ok. Large quantity much cheaper, feel free to contact with us for valid price please! 
Contact:
Email: emily01191@163.com
whatsapp: +86-15902725495
wechat: 15902725495
Instagram: @eggshellstickers.emily
Demo Video: